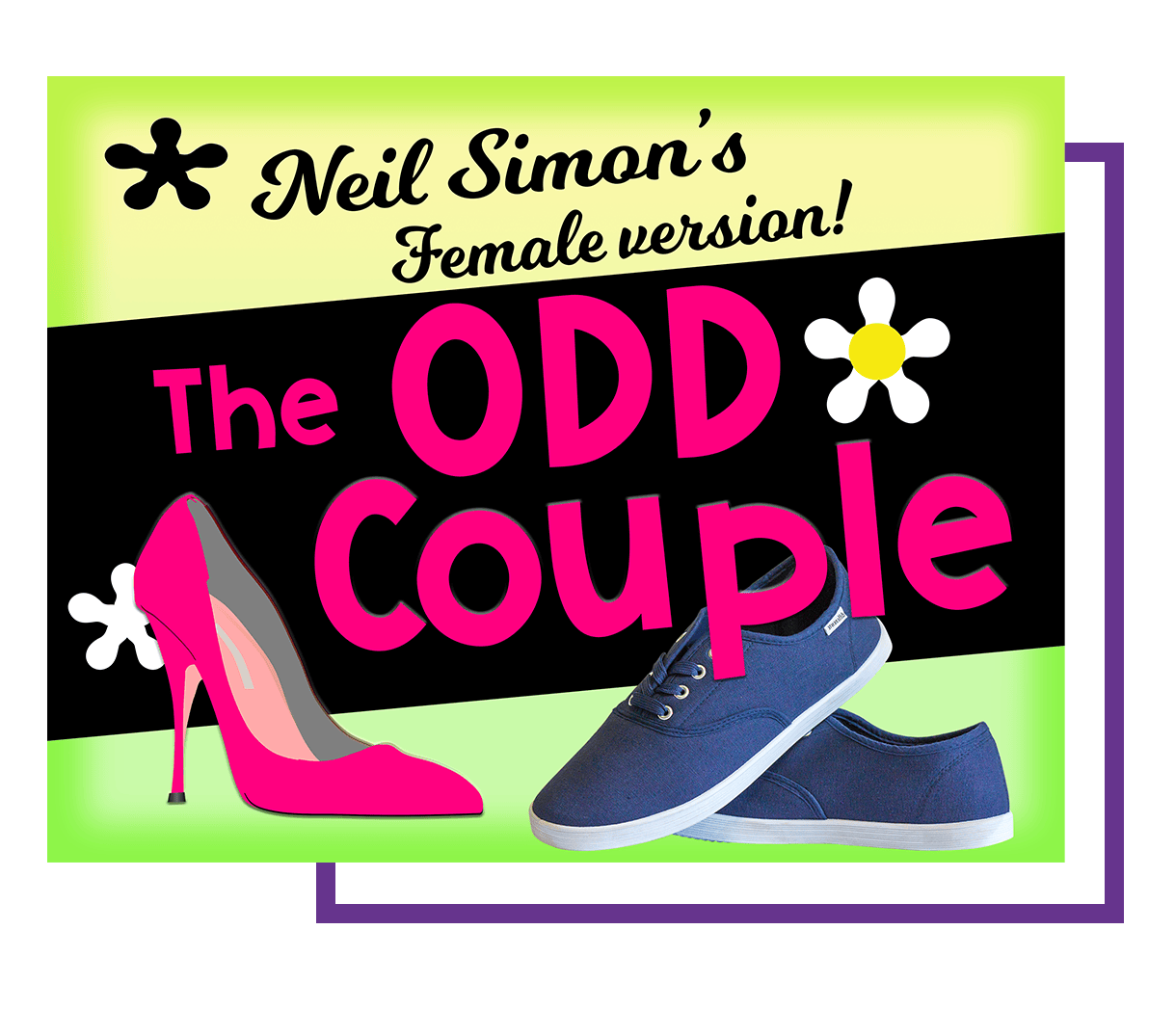 "The Odd Couple" (female version)
An Ocoee Theatre Production
SUMMARY
Ocoee Theatre Company will hold open auditions to cast Neil Simon's "The Odd Couple" (female version), a women's-perspective of his original, classic comedy about two completely opposite personalities trying to live together.  
Featuring roles for six females and two males, the main characters are two middle-aged female divorcees.
Olive Madison (based on Oscar Madison) is a good-hearted slob and sports trivia expert. Florence Unger (based on Felix Unger) is a neurotic, obsessive neat-freak, who moves in with Olive after her marriage falls apart. On regular game nights, these two interact with a foursome of female friends, talk about their spouses, ex-spouses, and plan liaisons with a couple of handsome, single Spanish brothers living upstairs in the same apartment building.
Enthusiasm and the desire to be a part of local theatre is more important than acting experience, according to Ocoee Theatre officials. A non-profit organization, Ocoee Theatre is dedicated to developing local community theatre in all aspects, and many volunteer opportunities are available behind the scenes as well as onstage. 
.
DIRECTOR
Drew Nelson
ASSISTANT DIRECTOR
Keith McAlister
PLACE & DATES OF AUDITIONS:
Bradley Place Office Building 
1510 Stuart Road (across from Y)
Cleveland, TN
AUG 13 @ 2:30 AUG 14 @ 6:30
REHEARSALS:
Plan on three times a week and more times closer to opening night. Generally, the rehearsals are in the evenings during the week. After casting and consideration of everyone's needs, the director will set a schedule according to the rehearsal needs. (Please raise any prior commitments or needs with the Director at auditions.) 
The play calls for a strong cast of actors. We're looking for both female and male talent.
Please see the list of characters below.
FEMALE ROLES:
Olive Madison
, age 25-45+
Olive is a successful television producer. She is intelligent, attractive and wisecracking, with a good sense of humor – and she's a complete slob when it comes to her surroundings. She has an encyclopedic understanding of sports, is a complete pushover for her ex-husband, and a good friend.
Florence Unger
, age 25-45+
Florence is attractive, very well groomed, neat and has just broken up with her husband. She takes herself very seriously, likes to clean, decorate and cook and is very good at all three. Flo is also intelligent, warm-hearted (in her own way), and has no sense of humor (at least about herself) – she does NOT make jokes. She can also, without meaning to, make Olive feel guilty.
Sylvie
, age 25-45+
Sylvie is desperately trying to stop smoking, and so sucks on lollipops or chews gum. She can get irritated with her friends, but has a good sense of humor, especially about her husband.
Mickey
, age 25-45+
Mickey is a police officer, who is down-to-earth, plain talking, and has a good understanding of people. Sometimes she can take the "police bit" too far and she tries very hard to be in control of all situations.
Renee
, age 25-45+
Renee is Sylvie's best friend. She can be very plain-spoken, especially when she points out Olive's failings as a hostess, and then Flo's. She is single and dating a doctor.
Vera
, age 25-45+
Vera is very sweet, very nice, somewhat spacey, and, although quite smart, is often a step or two behind her friends. She's very funny but doesn't realize it. She is married to Harry.
MALE ROLES:
Manolo Costazuela, age 25-45+
Manolo is handsome, very well groomed, and Spanish. He is every woman's dreamdate and showers both Olive and Flo with attention. He must have good comic timing, as he gets VERY emotional. He is sensitive and appreciates Florence's sensitivity. .
Jesus Costazuela, age 25-45+
Jesus is Manolo's younger brother, who is also very handsome, well-groomed, excellent posture, very romantic, and he also gets very emotional, and truly appreciates Florence.